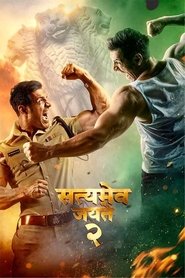 1. Ukoliko imate grešku ili problem kod plejera?
2. Ukoliko želite da gledate film ili seriju sa prevodom dok nema plejer?
Prijavite na kontakt ili časkanje da bi smo rešili problem ili postavili plejer za gledanje.
Opis filma
Satya Azad, an upright Home Minister wants to cleanse the country of corruption with his Anti-Corruption Bill. However, it fails to get enough 'Ayes', not only from his allies, but also from his wife Vidya a member of the Opposition, who votes 'Nay' in the Vidhan Sabha. When a couple of gruesome killings take place in the city, ACP Jay Azad is brought in to nab the murderer, never mind his motive.
Originalni naslov
सत्यमेव जयते 2
IMDb Rating 4.1 15,794 votes
TMDb Rating 6.5 10 votes